The Difference Between a Cheesesteak & a Philly Cheesesteak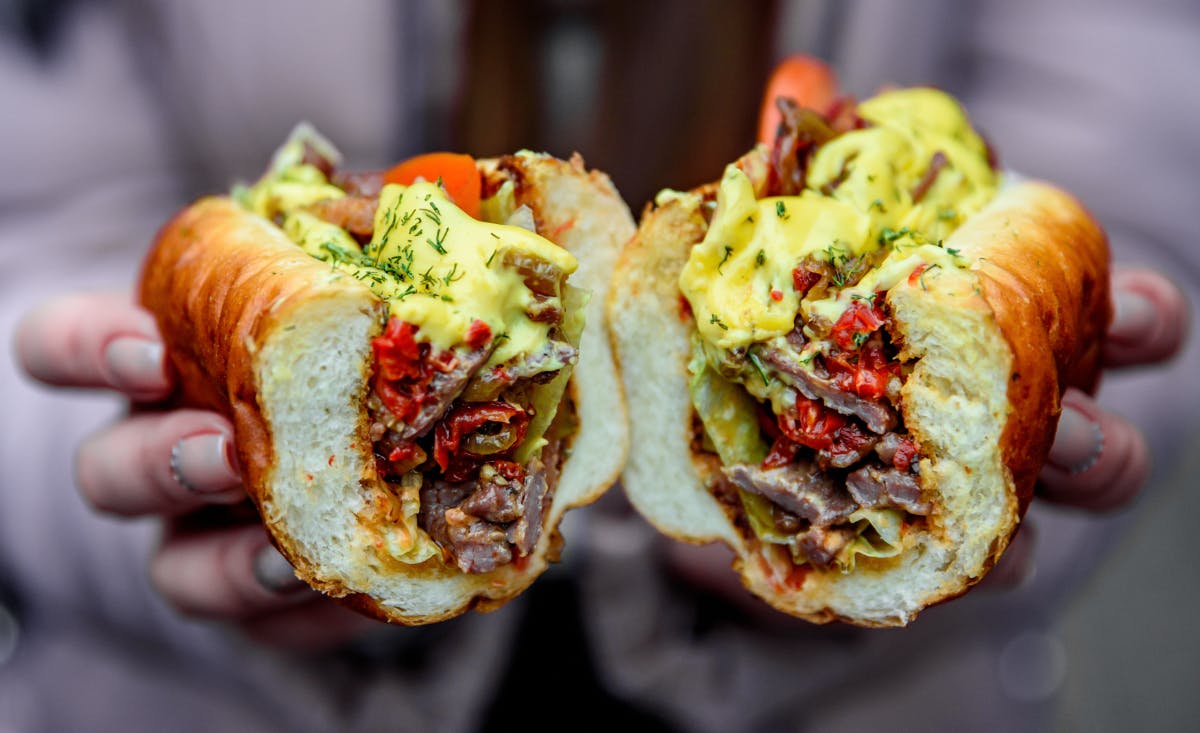 What's the Difference Between a Cheesesteak and a Philly Cheesesteak?
What is the real difference between the sandwiches known as "Cheesesteaks" and those known as "Philly Cheesesteaks"? The answers are as varied as the types of ingredients used. To understand why this is a concern at all is to travel back to the 1930s when the Oliveri brothers, who ran a hot dog stand near the South Philadelphia Farmer's Market, decided to up their game with a new offering that no one else had. They shaved steak into paper thin slices on a hot grill, added sauteed onions, and put it on a toasted roll. It was delicious, but I was still missing something, however. In time a ribbon of Cheese Whiz was drizzled over the top and the Philly Cheesesteak was born. Today, those living in the TriState do not have to make the pilgrimage to their favorite sammie's home state. Forgo Googling "philly cheese steaks near me" or "best cheesesteak in new york" and come on down to one of Chiddy's Cheesesteaks locations. One bite and you'll understand immediately what the difference is between a real Philly Cheesesteak, a cheesesteak, and any other type of beef sandwich for that matter!
Why Chiddy's Has The Best Cheesesteak in New York
For Philly cheesesteak purists, the cheese de jour is Cheez Whiz and nothing but Cheez Whiz, however for others, American and provolone are common substitutions. At Chiddy's, we welcome everyone with an appreciation for a great cheesesteak sandwich. We use only top-quality ingredients, starting with a cut of beef. The meat is uniformly sliced and cooked on a flat top. We aim to please all of our customers, but if the onions are not sautéed or caramelized, if the cheese isn't soft, hot, and melted, or if it is served on anything but a toasted hoagie or Italian roll that has been sliced in half lengthwise, it isn't a Chiddy's Philly Cheesesteak!
One of the delights of the authentic Philly Cheesesteak is its unique balance of flavors, textures, and juiciness. If diners are not made to hunch over their sandwiches to avoid drips running down their arms, then chances are they are eating a cheesesteak, not a genuine Philly Cheesesteak. At Chiddy's, we take great pride in offering something to everyone in your family – even vegetarians! That's why, in addition to our famous Philly Cheesesteak sandwiches, we also offer a range of enticing variations on this tried and true theme. At Chiddy's, we always ask, "How would YOU like YOUR cheesesteak sandwich?" Then we deliver on quality, flavor, and deliciousness each and every time!
Dine with Us: Enjoy the Best Cheesesteaks at Chiddy's
So the next time you and your family and friends are deciding on where to dine or want a sandwich with that 'something, something', bypass searching online for "philly cheese steaks near me" or "best cheesesteak in new york" and drop by our conveniently located restaurants and food truck. The debate between what differentiates a 'real' Philly cheesesteak sandwich from an ordinary steak and cheese sammie will continue. However, if you like yours, Chiddy's will always be happy to oblige! Plan to visit us soon!